Beating the system: engaging the "unreachable" on social media
Royal Astronomical Society press release
RAS PR 22/21 (NAM 8)
13 July 2022
Social media platforms are a ubiquitous communication tool, with nearly two billion people using Facebook every day, for example. But these platforms curate their offer, with neural networks using algorithms to recommend content to their users, using inputs such as age, gender and location. For sciences including astronomy the result is a largely male audience watching, listening and reading to content from men. Now one leading woman astronomer, Dr Becky Smethurst of the University of Oxford, is finding ways to overcome this bias, not least via her YouTube channel and its 400,000 subscribers. She presented her work at the National Astronomy Meeting at the University of Warwick on Tuesday 13 July.
TikTok, Instagram, Facebook, Twitter and YouTube are often excellent ways to reach a huge global audience and engage them with scientific topics. The challenge for science communicators is to overcome their inherent bias, where notably science is a "male" topic, and 23 of the top 25 YouTube science and technology channels are run by men. Algorithms then recommend them to other men, and so exclude other audiences such as young girls from seeing that content unless they make a particular effort to find it.
Becky is best known online through her YouTube channel "Dr Becky", with over 400,000 subscribers and 28 million views to date. She uses this to overcome the constraints set by recommendation algorithms and connect with "unreachable" audiences. Part of her approach is to disguise a science video as something else, for example a review of memes or a day in the life video. People click on the video and watch it if it is a format they're familiar with, and in the process learn some science.
Subsequently this means they will be more likely to be recommended more science content. Using this approach for her channel, Becky notes that this approach increased engagement with 13-24 year olds by a factor of 4, and with women by a factor of 11, above the base level from the recommendation algorithm.
Becky comments: "I like think of this as a science Trojan horse, using completely different ideas to bring people to astronomy. We desperately need to widen the pool of people coming into science, and I hope that my channel is making a real difference, so that everyone sees astronomy as something they can engage with and enjoy."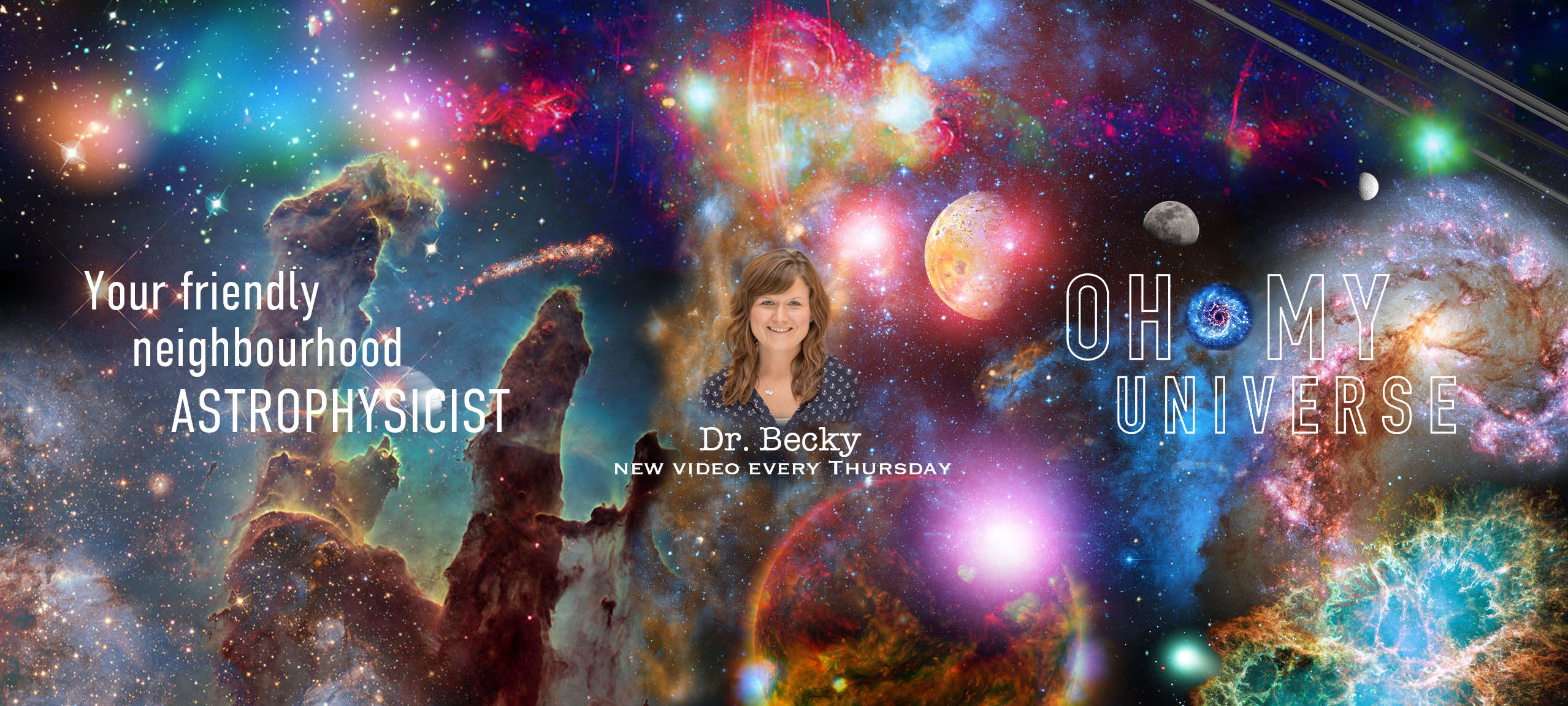 Promotional material for Dr Becky's YouTube channel. Credit: Dr Rebecca Smethurst
---
Media contacts
Dr Robert Massey
Royal Astronomical Society
Tel: +44 (0)20 7292 3979
Mob: +44 (0)7802 877 699
This email address is being protected from spambots. You need JavaScript enabled to view it.
Ms Gurjeet Kahlon
Royal Astronomical Society
Mob: +44 (0)7802 877700
This email address is being protected from spambots. You need JavaScript enabled to view it.
Ms Cait Cullen
Royal Astronomical Society
This email address is being protected from spambots. You need JavaScript enabled to view it.
---
Science contact
Dr Becky Smethurst
Christ Church, University of Oxford
This email address is being protected from spambots. You need JavaScript enabled to view it.
---
Images and captions
https://nam2022.org/images/ohmyuniverse-final-cropped-FINAL-thursday.jpg
Credit: Dr Rebecca Smethurst
---
Notes for editors
The Dr Becky YouTube channel has more than 450,000 subscribers drawn from an unusually diverse audience.
About NAM 2022
The NAM 2022 conference is principally sponsored by the Royal Astronomical Society (RAS), the Science and Technology Facilities Council (STFC) and the University of Warwick. Keep up with the latest conference news on Twitter.
About the Royal Astronomical Society
The Royal Astronomical Society (RAS), founded in 1820, encourages and promotes the study of astronomy, solar-system science, geophysics and closely related branches of science. The RAS organises scientific meetings, publishes international research and review journals, recognises outstanding achievements by the award of medals and prizes, maintains an extensive library, supports education through grants and outreach activities and represents UK astronomy nationally and internationally. Its more than 4,000 members (Fellows), a third based overseas, include scientific researchers in universities, observatories and laboratories as well as historians of astronomy and others.
Follow the RAS on Twitter, Facebook, Instagram and YouTube. Listen and subscribe to the Supermassive Podcast here.
About the Science and Technology Facilities Council
The Science and Technology Facilities Council (STFC) is part of UK Research and Innovation – the UK body which works in partnership with universities, research organisations, businesses, charities, and government to create the best possible environment for research and innovation to flourish. STFC funds and supports research in particle and nuclear physics, astronomy, gravitational research and astrophysics, and space science and also operates a network of five national laboratories, including the Rutherford Appleton Laboratory and the Daresbury Laboratory, as well as supporting UK research at a number of international research facilities including CERN, FERMILAB, the ESO telescopes in Chile and many more.
STFC's Astronomy and Space Science programme provides support for a wide range of facilities, research groups and individuals in order to investigate some of the highest priority questions in astrophysics, cosmology and solar system science. STFC's astronomy and space science programme is delivered through grant funding for research activities, and also through support of technical activities at STFC's UK Astronomy Technology Centre and RAL Space at the Rutherford Appleton Laboratory. STFC also supports UK astronomy through the international European Southern Observatory and the Square Kilometre Array Organisation.
Follow STFC on Twitter.
About the University of Warwick
The University of Warwick is one of the world's leading research institutions, ranked in the UK's top 10 and world top 80 universities. Since its foundation in 1965 Warwick has established a reputation of scientific excellence, through the Faculty of Science, Engineering and Medicine (which includes WMG and the Warwick Medical School).