Cyborg collaboration finds 40,000 ring galaxies
Royal Astronomical Society press release
RAS PR 22/24 (NAM 11)
14 July 2022
Human and machine intelligence worked together to find 40,000 ring galaxies, scientists at the National Astronomy Meeting will announce this week. Dr Mike Walmsley of the University of Manchester and the Galaxy Zoo collaboration will present the new work, describing how this "cyborg" approach measured the shapes of millions of galaxies.
Galaxies live a chaotic life. Collisions with other galaxies and bursts of energy from supermassive black holes disrupt the colours and orbits of billions of stars, leaving tell-tale markers that volunteers search for on the Galaxy Zoo website. But understanding exactly which cosmic events lead to which markers requires millions of measured images - more than humans could ever search.
To help, Dr Mike Walmsley used a decade of Galaxy Zoo volunteer measurements (totalling over 96 million clicks) to create an automatic assistant - a new AI algorithm. The algorithm, affectionately named "Zoobot", can not only accurately predict what volunteers would say but understands where it might be mistaken.
The discovery of 40,000 rare ring-shaped galaxies is six times more than previously known. Rings take billions of years to form and are destroyed in galaxy-galaxy collisions, and so this giant new sample will help reveal how isolated galaxies evolve. The dataset will also tell scientists how galaxies age more generally.
Zoobot is designed to be retrained again and again for new science goals. Just like a musician can learn a new instrument faster than their first instrument, Zoobot can learn to answer new shape questions easily because it has already learned to answer more than 50 different questions. Dr Walmsley says: "With Zoobot, humans and machines are collaborating to push the science of astronomy forward. We're helping other astronomers solve questions we never thought to ask".
Galaxy Zoo Deputy Principal Investigator Dr Brooke Simmons, of the University of Lancaster, adds: "Galaxy Zoo turns 15 years old this week, and we are still innovating. The work Dr Walmsley is leading will make it possible for a new generation of discoveries to be made from upcoming large galaxy surveys."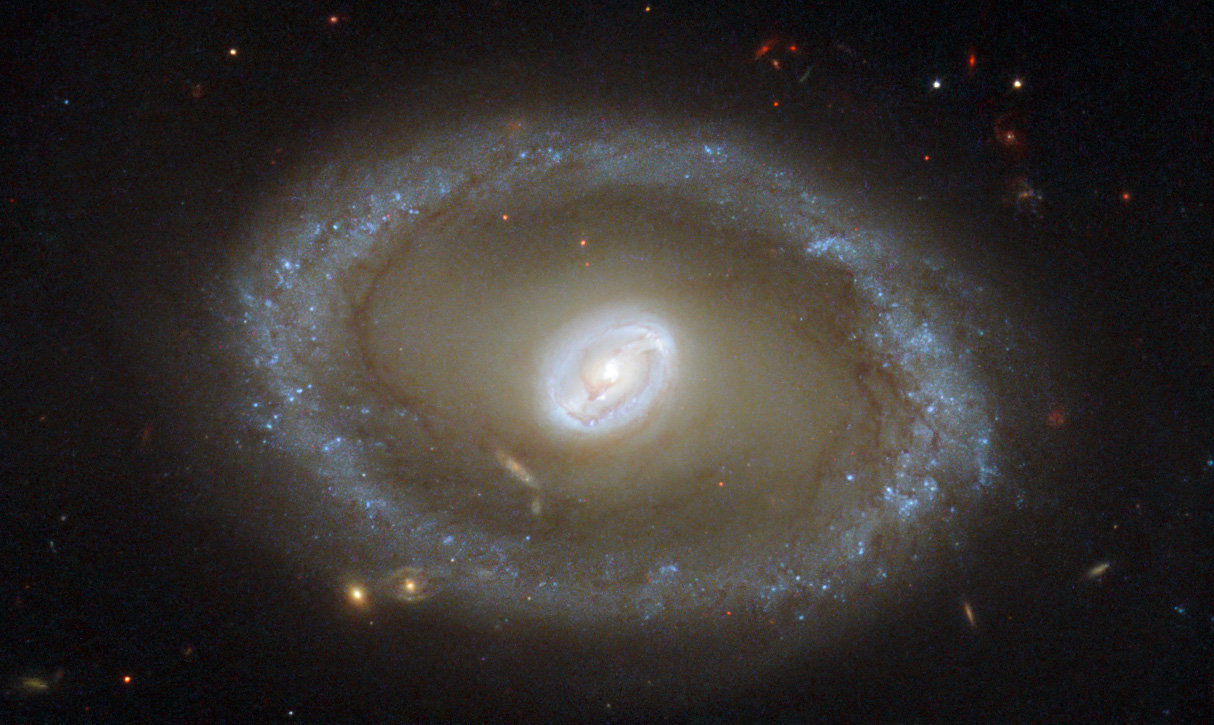 The ring galaxy NGC 3081, imaged by the Hubble Space Telescope. Credit: ESA/Hubble & NASA Acknowledgement: R. Buta (University of Alabama)
---
Media contacts
Dr Robert Massey
Royal Astronomical Society
Mob: +44 (0)7802 877 699
This email address is being protected from spambots. You need JavaScript enabled to view it.
Ms Gurjeet Kahlon
Royal Astronomical Society
Mob: +44 (0)7802 877700
This email address is being protected from spambots. You need JavaScript enabled to view it.
Ms Cait Cullen
Royal Astronomical Society
This email address is being protected from spambots. You need JavaScript enabled to view it.
Science contacts
Dr Mike Walmsley
University of Manchester
This email address is being protected from spambots. You need JavaScript enabled to view it.
Prof. Anna Scaife
University of Manchester
This email address is being protected from spambots. You need JavaScript enabled to view it.
Prof. Karen Masters
Haverford College, Pennsylvania, United States
This email address is being protected from spambots. You need JavaScript enabled to view it.
Prof. Chris Lintott
University of Oxford
This email address is being protected from spambots. You need JavaScript enabled to view it.
Dr Rebecca Smethurst ("Dr Becky")
University of Oxford
This email address is being protected from spambots. You need JavaScript enabled to view it.
Images and captions
Image 1:https://nam2022.org/images/NGC_3801_HST_Credit_ESA___Hubble__NASA_.jpeg
The ring galaxy NGC 3081, imaged by the Hubble Space Telescope. Credit: ESA/Hubble & NASA
Acknowledgement: R. Buta (University of Alabama)
Image 2: https://nam2022.org/images/ring_example_grid.png
Images of 35 of the ring galaxies newly discovered by the Galaxy Zoo volunteers and the Zoobot. Credit: Mike Walmsley / Galaxy Zoo collaboration
Notes for editors
About Galaxy Zoo
Galaxy Zoo recruits hundreds of thousands of volunteers to measure the morphology (shapes) of millions of galaxies. Galaxy Zoo celebrates 15 years this week, over which time the project has supported hundreds of scientific papers with the morphology measurements and with the serendipitous discovery of rare astrophysical objects like Voorwerpen found along the way.
About NAM 2022
The NAM 2022 conference is principally sponsored by the Royal Astronomical Society (RAS), the Science and Technology Facilities Council (STFC) and the University of Warwick. Keep up with the latest conference news on Twitter.
About the Royal Astronomical Society
The Royal Astronomical Society (RAS), founded in 1820, encourages and promotes the study of astronomy, solar-system science, geophysics and closely related branches of science. The RAS organises scientific meetings, publishes international research and review journals, recognises outstanding achievements by the award of medals and prizes, maintains an extensive library, supports education through grants and outreach activities and represents UK astronomy nationally and internationally. Its more than 4,000 members (Fellows), a third based overseas, include scientific researchers in universities, observatories and laboratories as well as historians of astronomy and others.
Follow the RAS on Twitter, Facebook, Instagram and YouTube. Listen and subscribe to the Supermassive Podcast here.
About the Science and Technology Facilities Council
The Science and Technology Facilities Council (STFC) is part of UK Research and Innovation – the UK body which works in partnership with universities, research organisations, businesses, charities, and government to create the best possible environment for research and innovation to flourish. STFC funds and supports research in particle and nuclear physics, astronomy, gravitational research and astrophysics, and space science and also operates a network of five national laboratories, including the Rutherford Appleton Laboratory and the Daresbury Laboratory, as well as supporting UK research at a number of international research facilities including CERN, FERMILAB, the ESO telescopes in Chile and many more.
STFC's Astronomy and Space Science programme provides support for a wide range of facilities, research groups and individuals in order to investigate some of the highest priority questions in astrophysics, cosmology and solar system science. STFC's astronomy and space science programme is delivered through grant funding for research activities, and also through support of technical activities at STFC's UK Astronomy Technology Centre and RAL Space at the Rutherford Appleton Laboratory. STFC also supports UK astronomy through the international European Southern Observatory and the Square Kilometre Array Organisation.
Follow STFC on Twitter.
About the University of Warwick
The University of Warwick is one of the world's leading research institutions, ranked in the UK's top 10 and world top 80 universities. Since its foundation in 1965 Warwick has established a reputation of scientific excellence, through the Faculty of Science, Engineering and Medicine (which includes WMG and the Warwick Medical School).